How's it going? It's been an amazing 2 months running Smoked and Cured so far and we're excited to be already writing our second newsletter! We were only planning on sending out quarterly newsletters, however, with the Easter holidays literally around the corner, we thought we'd bring newsletter #2 forward to give you the opportunity to take up some last minute Easter promotions, especially if you have some camping trips planned. We've selected the 3 winning product reviews since the last newsletter and have also included some fish smoking tips in this edition, so be sure to read on!
Whatever you have planned this Easter, we hope your treating yourself and your family to some delicious slow smoked roasts, or if you're taking a break from meat then maybe trying to smoke some fish or vegetables could be a goer!
PRODUCT REVIEWS
As promised, we've selected the 3 best reviews from the last 2 months and to continue on the tradition, a $20 store credit will be awarded to each winning review. We received so many fantastic product reviews in the last couple of months it was hard to pick the winners.
Here are the winning reviews - Congratulations to Simon and Rebecca and the anonymous reviewer (We've identified Rebecca, but can Simon and the anonymous reviewer please contact us so that we can apply your store credit). Big thanks to everyone who took the time to review our products during February and March!
Dont leave it laying around.
Posted by Simon on 15th Feb 2015
Very easy quick to use. Little mess and no fuss. I gave mine a 1 1/2 hours of smoke at the start of the drying process and the outcome was fantastic. I had taken some to work and left the bag open on the table, looked around whilst making a cuppa and they were all into it. I didn't mind so much as there was plenty more at home and it's a good way to get an idea of how good it is.
Dual Probe Thermometor
Posted by Rebecca on 5th Mar 2015
Works exceptionally well for temperature and connection. Temperature can be set by 1 deg increments or by using preset rare/medium etc settings. Only thing I can't find is how to change the display temp on the receiver to deg C. (can change on the unit that the probes plug in to). Range is about 10m through 1 brick veneer wall

Love It!!!!!
Posted by Unknown on 23rd Feb 2015
Evokes memories of continental smoked meats of my childhood. Imparts a delicate smokey flavour to pork and chicken. Am about to experiment with different marinades, using liquid smoke, to add oomph white meats.
PRODUCT ARRIVALS
5-in-1 Multi Functional BBQ Grill Topper & Corn Cob BBQ Basket...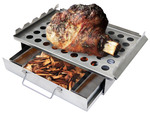 The just arrived 5-in-1 multi-functional BBQ Grill Topper is a neat compact unit, simple to use, made using high end stainless steel, and is easy to assemble and pack away! You can:
· make the famous Beer Can Chicken,
· use it as a Kebab Grilling Rack,
· or a Grill Topper,
· it also functions as a Jalapeno Roaster,
· and to top it off, it's a Smoker Box as well (smoke fish, chicken, beef - beautiful)!
Char grilling over an open fire couldn't get much easier that this!
And check out the corn BBQ basket - It makes the perfect gift for those who love BBQing and making things really easy for themselves. No more corn cobs rolling off the Barbie with this well made (49.5cm long!) gadget!

Hi Mountain Summer Sausage Kits
Although Summer has been and gone, these sausage kits go well all year round! They come with everything you need (including casings) to be able to produce your own healthy and tasty large diameter sandwich meats out of minced meats. You can mix the seasoning and cure into any type of meat that want, then after it's cured, smoke or cook them in the oven! Each kit will make up to 15kgs of sausages and will have you and the family coming back for more! Available in Original, Cracked Pepper & Garlic, Hunter's Blend and Jalapeno Chilli.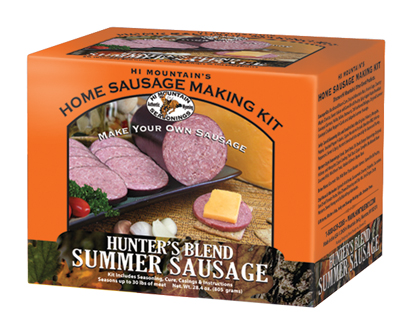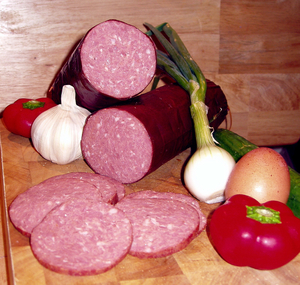 Also in stock are the new Hi Mountain Continental Sausage kits and Hi Mountain Bratwurst Sausage kits available. The kits come with detailed instructions which will ensure you make a quality cured product that most of us have come to expect from Hi Mountain. Please note: Unlike the Summer Sausage kits, these kits do not come with casings.
RECIPE CORNER
Tips for hot smoking fish:
If you're going to smoke some fish this Easter here are some handy tips. For hot smoking, its best to brine your fish first. Brining fish is a very quick process and if you're short on time, 1-2 hours in the brine should be plenty, if you have a bit more time, you can brine your fish overnight and rinse thoroughly before cooking. Whether you're smoking salmon, trout or barra, we suggest you brine your fish beforehand. We have 3 popular
fish brines available
from Hi Mountain which give your fish that extra bit of flavour!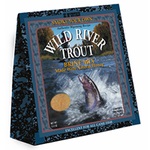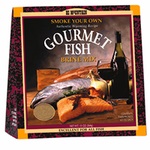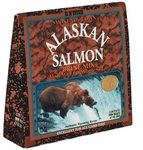 Most fish can be smoked, however, the fattier the fish the better it will absorb the falvour from the smoke, this is why salmon and trout are perfect for smoking. You can smoke the fish whole or use fillets with the skin on if the fish is big enough. If using fillets, smoke your fish with the skin side down, a Camerons stovetop smoker is perfect for the job! If smoking Salmon fillets, 8-10 minutes on medium heat is all you'll need - just remember, it's a similar cooking time to if you were grilling them. The stovetop smokers work best with pellets, small chips and dust.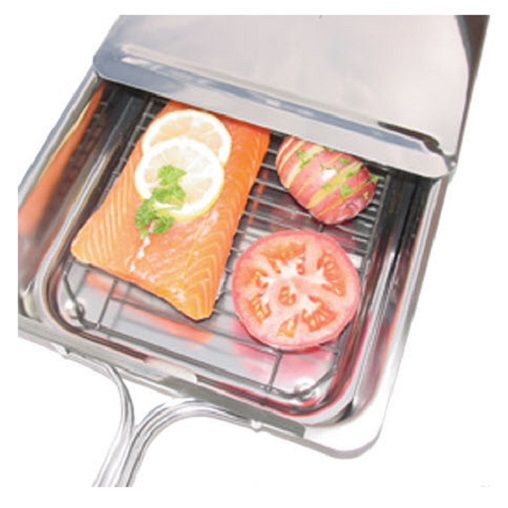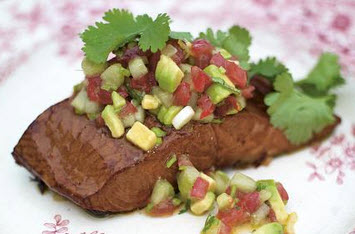 Typically, fish is best smoked with woods like alder, beech or light fruit woods. We have customers who swear by Beechwood smoked barra from their Masterbuilt Smoker! Salmon is usually smoked with alder but of course you can use mesquite, hickory or whatever your favourite wood flavour is. Since fish smokes quickly, woods like mesquite will not have a chance to impart too bitter a taste, however it is recommended that it be used sparingly. Remember, if your fish tastes too bitter then you've probably used to much smoking wood - generally, when it comes to smoking fish, less is more.


EASTER SPECIALS!!!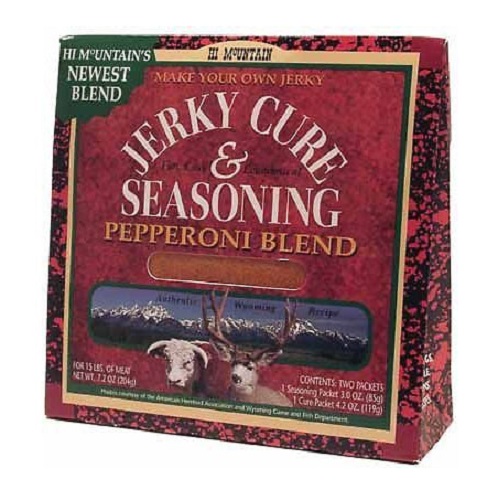 As most of you will have camping, fishing or hunting trips planned this Easter - and our newsletter has arrived late, we'll be sending all Jerky seasonings or orders with Jerky seasonings (total weight must be <5kg) out by EXPRESS POST (for the same price as standard post) until next Tuesday so that your seasonings will arrive in time before Easter. So if you've thought about making some awesome homemade Hi Mountain Jerky to share with your mates and family this Easter, then jump on our site and order before next Tues 12pm, and we'll get your order shipped out to you in time for the big weekend!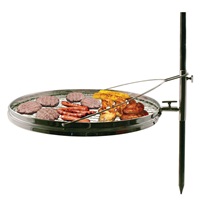 We'd also like to offer our loyal customer base 10% OFF everything in store (excluding the Masterbuilt Smoker and Smoke Daddy range) if you spend over $88 (not including freight). To take up this offer, please use 88EASTER10OFF as the coupon code. It's a one time use only code, that is valid until the 13th of April! If you've always wanted to purchase some Camerons Cookware to bring camping, now's the time to do it! We'll also throw in a free mystery gift for any orders over $150 before the 13th of April!

Checkout our Camp Cooking section - We plan to add more exciting products to this category in the future!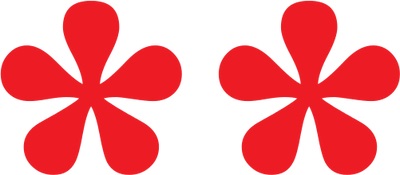 Thanks for reading our latest newsletter and please keep your reviews rolling in, we love reading them and getting feedback on our products, and we'll continue to pick out the 3 best reviews in our next newsletter! Please remember to leave your name with the review so we can figure out who you are and apply the credit.
Also, our recently launched Facebook page has amazingly received over 1000 likes!!! Thank you very much for your support and for also posting your pictures of the smoked and cured food you've been making - Our Facebook page is something we want to keep up to date and continue to grow, and we'll also be launching our new products from there in the future (as well as here in our newsletter). Please click on the image below to 'like us' on Facebook. Cheers!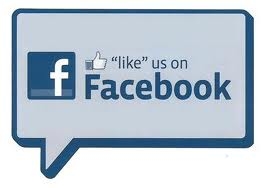 We're still working on the website and will be making some changes in the coming months so please have a look in our store www.smokedandcured.com.au and let us know what you think. If you have any product suggestions or requests, please drop us an email at: info@smokedandcured.com.au and we'll try our best to stock it.

Enjoy all the smoking and curing and hope you have a great Easter break!

Cheers

Ben, Christine and the Smoked and Cured team