We hope this edition of the newsletter finds you well and ready to shake the cobwebs and the dust off the BBQ for another summer of smoking!

To kick the season off we're pleased to announce a huge sale on our new Z Grills pellet smokers. These make the perfect addition to any backyard, particularly those fans of smokey low and slow goodness with the added benefit of being able to 'set and forget'. The sale is for 10 days only / while stocks last, so get in quick!

We've also got some new products to unveil, including our latest addition to our range of Banquet Bags... perfect to keep making salami right through the hot Aussie summer. This has been one of our most requested product additions... see below for the exciting news!

Finally we have our step-by-step guide to smoking beef shorties... a must-try recipe for all BBQ fans this summer!

As always, thanks for reading and happy smoking!
- Ben & Brenton
| | |
| --- | --- |
| | HUGE Z GRILLS SALE AND PELLET GIVEAWAY |
To celebrate the arrival of our new Z Grills pellet smoker range we are launching a huge, never to be repeated sale. Get in now to literally save hundreds. Not only are the smokers going out the door at 15% off, but we are throwing in 3x9kg bags of our premium Lumber Jack smoking pellets to get you smoking right away!

Take advantage of the 'set and forget' functionality of using a pellet grill and enjoy perfect smokey American BBQ at home today. Z Grills are easy to use, easy to clean and produce awesome grub. Z Grills Pellet Grills come with a full 3 year warranty so you can enjoy extended peace of mind in purchasing a quality smoker at a great price.

Free shipping to capital cities and major towns along the Eastern Seaboard. Additional freight charges may be unfortunately applicable to other locations or regional towns.

This sale is strictly limited to 10 days or until stocks last. Never to be repeated.
Get in quick and grab yourself a Z Grill Pellet Grill today...!

---





ZPG-450A ZPG 700E
$899 $765 $1249 $1062
BUY NOW
BUY NOW
| | |
| --- | --- |
| | NEW PRODUCTS |
PEACH PAPER BAGS
Now in a handy 25 pack, our peach paper bags are a must for anyone attempting ribs, brisket and beef shorties this summer. As the internal temperature starts to stall during your cook, place your meat in a peach paper bag to speed up the cook while protecting the bark. Acheive a perfect cook every time!

CHILI HONEY


Brand new from Smoked Salt Tasmania is this fantastic Chili-infused honey. This makes the perfect glaze or marinade for your next Low n Slow cook. Limited supply, get in fast while stocks last.

COLLAGEN SHEETS


Finally - we have them! Collagen sheet is used to wrap whole muscle cuts like coppa, pancetta and prosciutto. It can be used both wet and dry and aids in the dry ageing process by adding a protective layer, which can regulate moisture release and aid the dry ageing process. Comes in a handy 10-pack.
| | |
| --- | --- |
| | NEW BANQUET BAGS - 75mm SALAMI CASINGS! |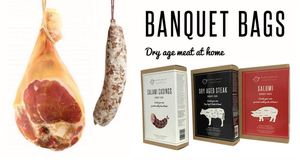 It's been some time in the making but we are thrilled to add our new 75mm diameter Salami Casings to our unique range of Banquet Bag products. You can now create larger style sausages year round with just the casings and a fridge! You've asked for them, we've delivered... 5 metres for just $27.95. Happy Curing!

Banquet Bags feature award winning Danish technology that allows you to safely dry age all kinds of meat products at home, with just a vacuum sealer and a fridge. Create your own dry aged steak, prosciutto, salami plus much, much more!

For more information on our range of Banquet Bag products you can check out our pages at Misty Gully or our store at Smoked and Cured.


---

BEEF SHORTIES RECIPE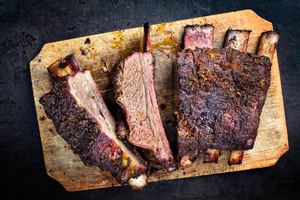 Beef shorties are the ultimate low and slow rib. They take some time and some prep, but their sweet, soft and rich payoff make them a must-try for any BBQ enthusiast this summer.
Ingredients:
2kg Beef Short Ribs
50ml Apple Cider Vinegar
50ml Pineapple Juice
50ml Water
Misty Gully Cracked Pepper 10/16 mesh
Misty Gully Kosher Salt
Misty Gully Plum chips / chunks
Misty Gully Peach Paper Bags
Method:
1 – Trim - Trim away all excess silver sinew/skin from the top of your ribs. Separate the rack either into individual ribs or two ribs per piece. Remove excess membrane from the underside of the rib. You can leave one layer if you want to prevent the meat from falling away from the bone at the tail end of the cook, however the membrane does prevent smoke penetration.
2 – Season - You can opt to use a store-bought rub but because beef shorties are so rich and flavourful on their own, we recommend simply using salt and pepper for seasoning. Stick with the 10/16 Mesh Cracked Pepper and a quality kosher salt to bring out the best in the meat.
3 – Smoke - Set your smoker to 130c and smoke for 2-3 hours with your wood of choice. We've been loving plum with beef due to the subtle spiciness and lingering sweetness it provides the meat – perfect for shorties!
4 – Spritz – in a spray bottle, mix the apple cider vinegar, pineapple juice and water. Every 90 minutes spray your ribs with this mixture in order to keep the cook nice and moist. Ensure your water pan is also full.
5 – Wrap – at around the 5 hour mark we recommend you wrap your shorties in a Misty Gully Peach Paper bag. This helps to beat the 'stall' which starts to take hold around this time. We prefer peach paper bags as opposed to using foil so as we don't cause the meat to sweat excessively and lose it's delicious smokey bark.
6 - Rest – monitor the internal temperature of your ribs. Once they hit 93c they are done. This could take up to 12 hours depending on your cut of meat. Remove from the smoker and wrap in a towel to allow them to rest for 30 minutes before tucking in.