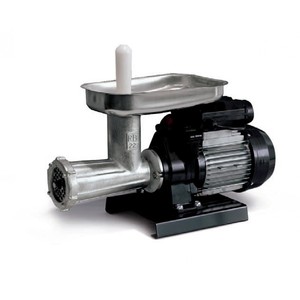 We currently have in stock the 3kg, 5kg & 8kg red enamel sausage fillers, and high quality 1Hp mincers, which can be used for sausage filling as well. To kick off sausage and salami making season, we've got 10% off all Reber products for the month of June, so if you're looking to upgrade your tools click here to check out our range.
Sausage and Salami Making Supplies
Some of our customers have already started stocking up on their supplies this season, and we want to let you know that we are fully stocked and have everything you need from mincers, fillers, smokers, casings, seasonings, twine, starter cultures and other additives used in Salami making. For those of you who haven't tried making Salami, its a heap of fun and very rewarding, but it's obviously not as easy as making fresh sausages. We also have some books below to recommend which are a excellent resources for understanding the fermenting and dry curing process and they also include lots of recipes to try out. Once you've read these books you'll feel much more confident in making safe and delicious dry cured products at home - so why not give salami making a go this winter? Double click on the pictures below to find out more about the books.

PRODUCT REVIEWS

We had a lot of great product reviews arrive in our inbox since our last newsletter so as always, it was tough to pick the 3 winners. Thank you to everyone who took the time to review our products and please continue to keep them coming!

Congratulations to Neil, Dave and an anonymous reviewer. Could Dave and the anonymous Kosher salt reviewer please contact us so that we can apply your $20 credit? Please remember to submit your name in full for any reviews as it helps us identify you as the winner.

All Natural Hog/Pig Sausage Casings Home Pack - Size 36

Best casings yet
Posted by Neil Middlemiss on 3rd May 2015
I have found my supplier of sausage making products. My family picked up straight away that there was a big improvement in the quality of sausage skins. I also found them much easier to use than my previous supplier.

Dry Aged Steak Banquet Bags
Incredible Taste
Posted by Dave on 1st Apr 2015
WOW is the least that I can say when it comes to this product. So tender and the flavour, wish I could speak French so as to be able to do the steak I just had justice in a verbal sense. My local butcher bagged it for me a juicy piece of scotch fillet and I left it for 21 days. Meat will never be the same, if you want to treat yourself buy this product and enjoy

3kg Kosher Salt
Is it good salt? Yeah mate it's kosher!
Posted by Unknown on 12th Mar 2015
Great product turned up very quick and exactly as described. Will definitely be using Smoked and Cured in the future for all my smoking and curing needs. It's the one stop shop for everything smokey.
RECIPE CORNER

Spicy Cacciatore
A traditional Italian 'Hunter's Sausage' – with a bit more spice than usual. You can use pork, pork/beef mixed or even venison and wild boar. In this recipe we are just going to use Pork and like making fresh sausages, we want approximately 30% fat in the mix. You can use pork back fat and mix it with lean pork to get the right mix. Please note: be sure that you have read some books (like those recommended above) before you attempt this recipe, you should have a good understanding of how fermented sausages are made to avoid potentially making yourself or others very sick. If you're not sure that your product is safe to eat, then it probably isn't and should be thrown out.

Preparation time: 3 hours
Cooking time: Dry curing 4-8 weeks Servings: 20
Ingredients:
2.5kg pork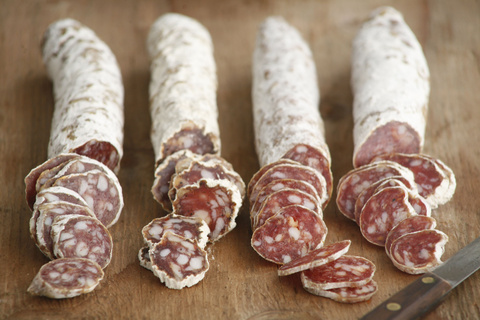 1kg pork back fat
95g Kosher Salt
10g Cure #2
11g Dextrose
¼ Cup Distilled Water
½ Cup Red Wine
0.5g Bactoferm T-SPX starter culture
0.5g Bactoferm Mold-600 (optional)
2 Tbsp Garlic Powder
2.5 Tbsp Coriander Seed
4.5 Tbsp Black Pepper
1.5 Tbsp Caraway Seed
1 Tbsp Cayenne Pepper
6 Tbsp Sweet Paprika
Cacciatore Size 44+ Hog Casings
Method:
1) Prepare your casings by soaking them in warm water for a couple of hours. Rinse casings in warm water too. Cut pork and fat into cubes to be minced. Mince pork and back fat through a 5mm plate. Remember to put your meat in the freezer for an hour or two before you begin processing, so as to keep it as cold as possible. Also it's good practice to keep your kitchen as cold as possible too.
2) Mix the T-SPX starter culture in ¼ cup distilled tepid water and let sit for 15m or so. While this is sitting, mix the rest of the dry ingredients with your meat. Once done, pour in the starter culture and wine, making sure your meat mix is still very cold. If it's not cold enough keep it in the freezer for an hour or so and start again. Mix the mince and ingredients thoroughly. You can also run the mix through the mincer again if you wish. Store mix in the freezer until you're ready to fill the casings.
3) Using a sausage filler, fill your casings, making sure that no air gets trapped inside the casings while filling. Make 6" links and use a sterilised needle or salami pricker to prick through the casings once filled to let out any air pockets/bubbles. Air pockets in salami can cause your product to spoil, and cause sickness if eaten. It is very important that no air pockets exist in your product.
4) Once stuffed, it's time to hang the links inside an enclosed space to ferment, ideally you want 20°C temperature at very high humidity. Optional step: Dip the salami into a Bactoferm Mold-600/distilled water solution to inoculate and protect your salami from potentially harmful foreign moulds (it will also positively affect the flavour of your salami). Spray the sausages every 6 hours or so with distilled water, which will keep them moist and the humidity up. Ferment for 48-72 hours.
5) After fermentation, hang your sausages to air dry. Sausages must be hung in a clean area, where there is minimal temperature fluctuation and ideally between 12-16°C. Humidity should be in the range of 70-85% RH, any lower and you will experience case hardening. Dry for approximately 4-8 weeks, until a 30% reduction in weight has been achieved.
6) Store final Cacciatore in the fridge or vac seal and keep in the freezer for long-term storage.